It's 2021 and we have LinkedIn and Indeed and a ton of other apps, services, and algorithms to help us find employers and to help employers find us. But yet we still have resumes. And they still kind of suck.
Of course they're not as central to the process as they were years ago, but some companies still use them to help decide who to interview, and some interviewers still use them as a guide for what questions to ask. And in either of these scenarios, if you're the one who has to read through the resume, it's not a great experience.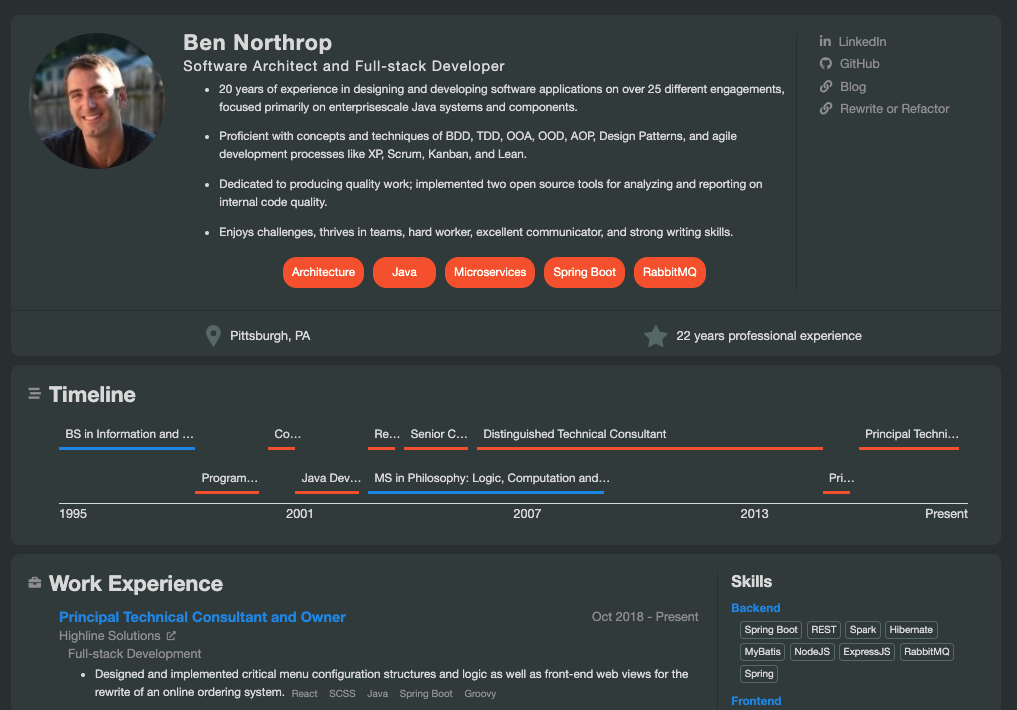 The problem is our typical developer resume is a multi-page chronicle of every system, component, and library we've ever worked with over the course of our entire careers. Information overload. If the reader had only a few minutes to skim our resume (which is usually the case), it'd be really hard for them to come away with an accurate picture of what we know or what we've done. They might wonder, "how much has he worked with single page apps?", and then would scan the resume like a grade school word search until their few minutes were up.
But it makes sense why it's this way. From a developer's perspective, it behooves us to cram in as much information as possible, lest we miss out on conveying some skill we've honed or technology we've used that might be relevant to some company. It's like packing for a month-long vacation where you don't know whether you'll be skiing, sunbathing, or going to a formal dinner. Might as well pack it all! And so our resumes become absurdly long.
My goal with this project was to improve on that user experience, even if just a little. Make the resume more of an interactive dashboard than a static document - one that allows us to keep all the detail, but lets the reader zoom in and out to view what's most interesting. So given this guiding vision, I built two main features for the MVP:
First, there's a timeline view at the top, so the resume reader can quickly get the "big picture" of your career trajectory. How long have you been different places? Have you been going to school and working at the same time? How long have you been a "senior"? In my opinion, seeing this visually makes this way easier.
The second feature is a full-resume skill filter. Each experience is tagged by skill, and then these skills can be used to filter the resume content. So if you want to see how much I've worked with NodeJS, then clicking on "NodeJS" would filter the entire resume down to only those experiences where I used it.
There are a few other bells and whistles that hopefully make this a viable way to maintain and share your resume, like PDF download and custom themes, but that's the gist of it as of now.
I have no idea whether this will fly, but it's been fun working on it. Give it a try at TechRez.io. And if you have any feedback or ideas, I'd love to hear it either in the comments below, or you can send feedback on the site.